*Disclosure: This post contains affiliate links, meaning that if you choose to click through and make a purchase, I will receive a small commission at no cost to you. I was also compensated to create this post, though all opinions are my own.
Thinking to level up your Instagram game, but not sure what is the best Instagram scheduler? Let me help you decide why I think you should go for Tailwind.
I've been using Tailwind for my Pinterest clients' accounts and I'm so happy with it! The people behind this platform are doing an amazing job. That's why when I heard the news that they've done a complete makeover of their tool to cater to Instagram users, I got excited!
I've checked the new features and I think they are great, so I thought it would be worth it to share them. Here they are:
#1 – Easily craft your content with Tailwind's Content Plans
This feature takes away your headache on what to post daily. Initially, all you need to do is pick the category that best describes your business and Tailwind will give a custom plan based on it. 
Once you upload your content and you run out of ideas on what to put on your captions, Tailwind has lots of captions templates to choose from. It will also give you some inspiration to check with based on your theme. How awesome is that? You will save time from planning and you can stay consistent on your posts. 
Then when you change your mind, you can easily drag and drop your scheduled posts and still see how they look like using the 9 grid preview.
#2 - Auto publish your images and videos at the best times your audience is most engaged
Do you know any other scheduling tool for Instagram that has these features? Most of the tools I know, you can only auto-publish your posts. They don't suggest when is the best time to post to get the most engagement from your audience.
#3 - Find the hashtags relevant to your niche
You have to use hashtags on Instagram so you get discovered by your target audience. Tailwind hashtag finder will help you do that. It suggests hashtags relevant to your niche.
If you don't like the hashtags in your captions because you want it to look neat, no problem! You can put the hashtags on the first comment.
You can even create a hashtags list for all of your favorites hashtags! Cool, right?
#4 - Automatically update your bio link to your recent post
With Tailwind's smart.bio, no need to manually update your bio link every time you publish a new blog post. For every image or video you scheduled, you can put its corresponding link to your website. Then your bio link will automatically update at the same time your post will be published. 
#5 - Schedule your Instagram stories ahead of time
Be consistent when to publish your stories. You can now plan, create, and schedule your stories ahead of time.
Here's a helpful video on how to use this feature:
#6 - Choose unlimited free stock images from Unsplash
Tailwind integrated Unsplash into their system. You can search for any images in their library. Within just a click, you can save it into your draft. No more hassle in downloading and uploading images!
Unsatisfied with your image? Tailwind got you covered, too! Just use their photo cropping and editing image feature. What else could you ask for?
#7 - Discover what's working using the Profile Analytics and Post Inspector
Don't just post, post, and post dude! You need to know what's really working for your business. With Tailwind's Analytics and Post Inspector, find out what content resonates with your audience. You can use this data to improve your marketing strategy over time.
#8 - Regram Instagram posts without a sweat
Yep, you read it right! You can easily regram posts using the Tailwind extension. Install it in your browser and you can easily grab any images you see on the web or the Instagram site. Check out this step by step guide in sharing great content on Instagram.
#9 - You are safe with Tailwind
Tailwind is approved by Instagram so it's 100% safe to use to grow your Instagram business account.
#10 - More and more features inside the platform
Some of the other features that I love in Tailwind are these:
You can tag users and put locations on your scheduled posts.

You can do batch scheduling which can save you some time.

You receive summary reports every week on your email registered on your Tailwind account.

You can add multiple social media accounts inside your single Tailwind dashboard.

You can add a collaborator inside your Tailwind account. No need to share your main account if you have a virtual assistant working for you.

Whether you are using Tailwind on your mobile in the morning and then desktop in the afternoon, all of your media are automatically sync.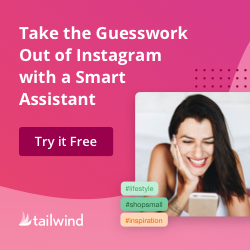 How do I sign up for Tailwind for Instagram?
To sign up to Tailwind, make sure your Instagram is a business account, then GO HERE. Under Instagram Plus, click the Free Trial. Login with your Instagram account and authorize Tailwind. Finally, complete your account setup, and your good to go! 
How long does Tailwind free trial last?
When you sign up for your free trial of Tailwind, you'll be able to schedule 30 Instagram posts. It does not have a time limit. If you are only scheduling 1 post a day then your trial will last for 30 days.
Tailwind is a great tool for bloggers and online brands. It has been proven effective on Pinterest and I'm sure it will be a major contributing factor to grow anyone's online business into a new level in the Instagram platform, too.
Check out this FREE Instagram Training on How To Create an Unstoppable Instagram Strategy to UP your Insta-game.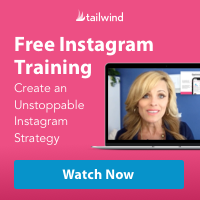 Share it on Pinterest